...he was actually the last person I expect to see here.
"Justin!" I said and then I hugged him.
"How are you?" he asked me.
"Good...what's wrong?" I asked him, because I saw his concern.
"Nicky left yesterday without saying a word and I can't get her on the phone, so she had to call you" I was looking at him while he was talking and I didn't know what to tell him.
"She's here right?" he asked when I didn't say anything.
"No..."
"She probably came to you...I'm sure about this! Where is she?"
"Justin...she left 3 hours ago" then he was quiet.
"But did she tell you, why did she left?"
"Yes, she did"
"Why?! Tell me!"
"She has to fix her problems"
"What problems?" he looked at me fearfully.
"She didn't tell you, did she?"
"Tell me what?" I knew I shouldn't told him this, but he had to know.
"She's pregnant" I said and there was silence. He sat down on the stairs and wiped his tears sliding down the cheek.
I sat down next to him.
"She was afraid to tell you this so she wanted to get through this all alone"
"Everything would be different if she had told me. I would help her"
"She always knew that you would do everything for her, but try to get her...she needs to fix this alone"
*END OF KIM'S P.O.V.*
Po parih urah sem prispela na Florido. Poklicala sem si taksi in odpeljal me je domov. Zunaj je bilo že temno, ko sem prišla. Počasi sem vstopila v hišo in pustila kovčke pri vratih. V pritličju ni bilo nikogar, ampak sem slišala neke glasove iz zgornjih sob. Tiho in počasi sem šla po stopnicah in na koncu hodnika videla rahlo odprta vrata, od koder je prihajal zvok. Slišala sem mamin smeh in malo tudi Timovega. Srce mi je hitro bilo, ko sem že potisnila vrata, tako da sem lahko vstopila v sobo. Vsi trije so ležali na postelji in gledali film.
"Nicky?!" je zakričala mama in se mi zagnala v objem. Oči je najprej začudeno pogledal in ko je k meni pritekel še Tim, je tudi on vstal s postelje in me prišel objet. Mama se je kar jokala, ko me je videla.
"What the hell are you doing here?" me je vprašala in si obrisala solze.
"That tour was too much for me, so I came home" še enrkat me je objela in šla zraven mene v mojo sobo. Tudi Tim se nama je pridružil.
"Oh honey I'm so happy to see you" je rekla mama in se ulegla na posteljo. Rahlo sem se nasmehnila in v tem je tudi videla mojo žalost.
"What's wrong? I can see your saddnes"
"I have to tell you something really important, but please not today" prestrašeno me je pogledala.
"Ok, we'll talk tomorrow. Go to bed now, because you must be really tired" mi je rekla in me prišla poljubit na čelo. Objela sem Tima, preden da je stekel ven, potem pa sta oba zapustila sobo. Vrgla sem se na posteljo in tako tudi zaspala.
Zjutraj sem vstala ravno takrat, ko je oči peljal Tima v šolo. Šla sem pod prho in si oblekla preprosta oblačila za doma ter si naredila figo.
Odšla sem do kuhinje, kjer je mama pripravljala zajtrk.
"Good morning" me je pozdravila in me poljubila na lička. Vsedla sem se za mizo in počakala da mi je naredila zajtrk, potem pa se je vsedla zraven in me pogledala.
"Now tell me"
"I don't even know how to tell you"
"I'm your mom...you can tell me everything, because I will always be your mother" odložila sem vilico in jo pogledala ter kar izstrelila.
"I'm pregnant"
Z debelimi očmi me je pogledala in sklonila glavo ter nekaj minut nič rekla. Po nekaj minutah se je oglasila.
"For how long?"
"For 1 month and a half, since Bill kidnapped me" vstala je in se naslonila na kuhinjski pult, ter se prijela za glavo.
"Oh gosh" tudi jaz sem vstala in stopila do nje.
"I know mom. Just please don't shout at me because I can't take anything right now. It's like I'm dying right now"
"Don't say that" me je prekinila in pogledala v oči. Imela je solzne oči.
"We can fix this ok? You'll go to the doctor and he'll fix this and everything will be back to normal" kmalu sem začela jokat, saj nisem imela več moči do življenja.
"It's so hard mom...I don't know what I have to do to make things right...I'm powerless for everything" sem ji rekla, ona pa me je objela.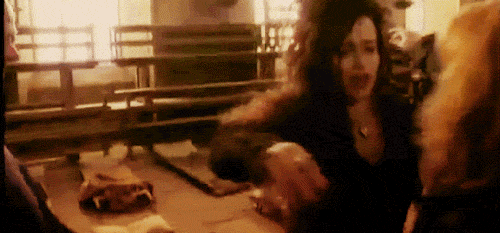 "It's ok...we can do this together" me je potolažila in me držala v objemu.
*ČEZ 3 DNI*
K zdravniku sem šla že kar isti dan, ko sem mami povedala za nosečnost. Pregledal me je, potem pa mi določil datum za splav. Kim sem klicala samo toliko, da sem ji povedala vse kar se dogaja, ampak se nisva imeli časa pogovorit.
Bil je konec tedna in tudi dan, ko sem bila naročena za splav. Stala sem pred ogledalom in se en čas gledala. Bila sem zelo živčna, potem pa me je poklicala mama.
"You have to go, or you'll be late!"
Vzela sem torbico in šla. Objela sem mamo in stopila skozi vrata. Iz avta zunaj pa je ravno takrat stopil...